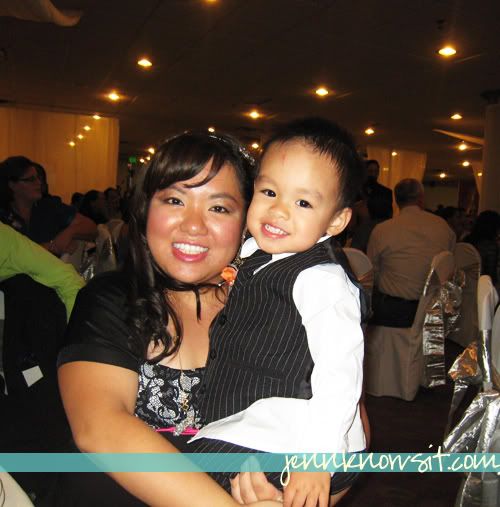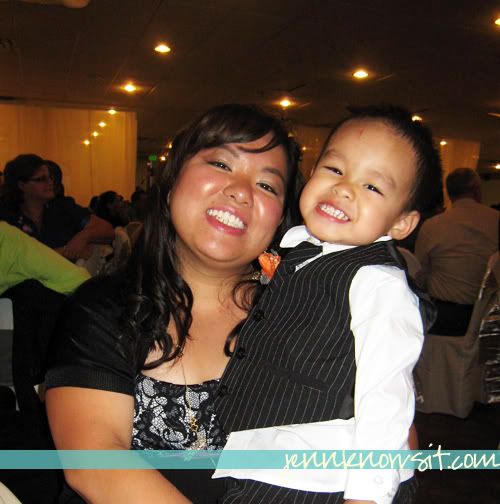 This is how I know this kid is mines!
Yes that part of me giving birth to him shoulda tipped me off but from the minute he was born he looked like his Dad exactly! To this day people, by that I mean RANDOM strangers, all say "Wow ayden is Will's mini me!" True, in fact if we were at a store and he got lost if people saw Will they'd know oh it must be that kids dad haha! Back to the picture. We were at Will's friend's wedding and Ayden and I weren't even trying to smile the same it just happened. He's got this bubbly personality like his mom but the shy reserved personality for the first five minutes-like his Dad . He's now two and a half and talking a mile a minute. Asking tons of questions and answering questions even if they aren't directed towards him. What's funny is that even if you try to "trick" him and say it in another language he'll STILL answer hahaha. He's on four languages right now. English being the main, Teochew being second, third Vietnamese, and fourth is Cantonese. He'll answer in the first three languages the most but he hears Cantonese the most when he's out with my in-laws.
My sister loves talking to him and when he visited her in Texas I think he talked her ear off. She got stuck riding next to him in the car and he kept showing her all the bells and whistles of the rental van as if he were some hot shot or something. He still amazes me every day. He's a great big brother and is very helpful... or at least he tries to be. I'm proud of both my kids. I'm thankful to have two kids, one of each, one "mini-me" of each I really couldn't ask for more. As long as our kids are happy - WE are happy. Our family has grown so much and as our story is being written each chapter gets better and better.